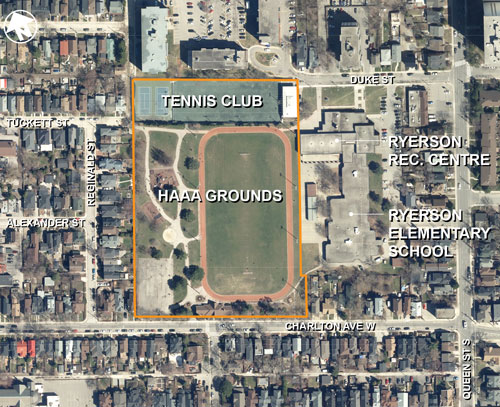 Hamilton Amateur Athletic Association Field
HAAA Grounds is the oldest "sports park" in the City of Hamilton and is rich in Hamilton's sporting history. It was the home of Hamilton Cricket Club (1874 to 1910) and Hamilton Rugby (Football) Club (1872 to 1949), it was also the venue for 7 Gray Cup Championships between 1910 and 1935.
In 1945 the City Parks Board purchased the HAAA land and managed the land for the next 32 years before changing the general landscape of the site to what we know today. Due to the needs of the community and the desire for open spaces throughout the city, they began planning to convert the sports fields into a passive and recreational space, while keeping its sporting heritage intact.
In 1977 the newly renovated HAAA ground was opened and included a newly developed football/soccer field, the introduction of a dirt track, trail systems, tree plantings and clubhouse renovations brickwork on Charlton, which included the addition of toilet and shower facilities.
In 1993 the park underwent further development to better serve the community, which included the addition of a spray boom followed by the addition of a play structure in 1997.
Currently, the park offers these amenities and features, many of which were built in the 90s:
Natural grass football pitch with sport-specific lighting
Dirt track
Basketball court
Spray pad
play structure
Gardens along Charlton Avenue
The Clubhouse on Charlton Ave
Hamilton Tennis Club (third party private operator)
Asphalt trails
tree plantations
Formerly used as an outdoor skating rink