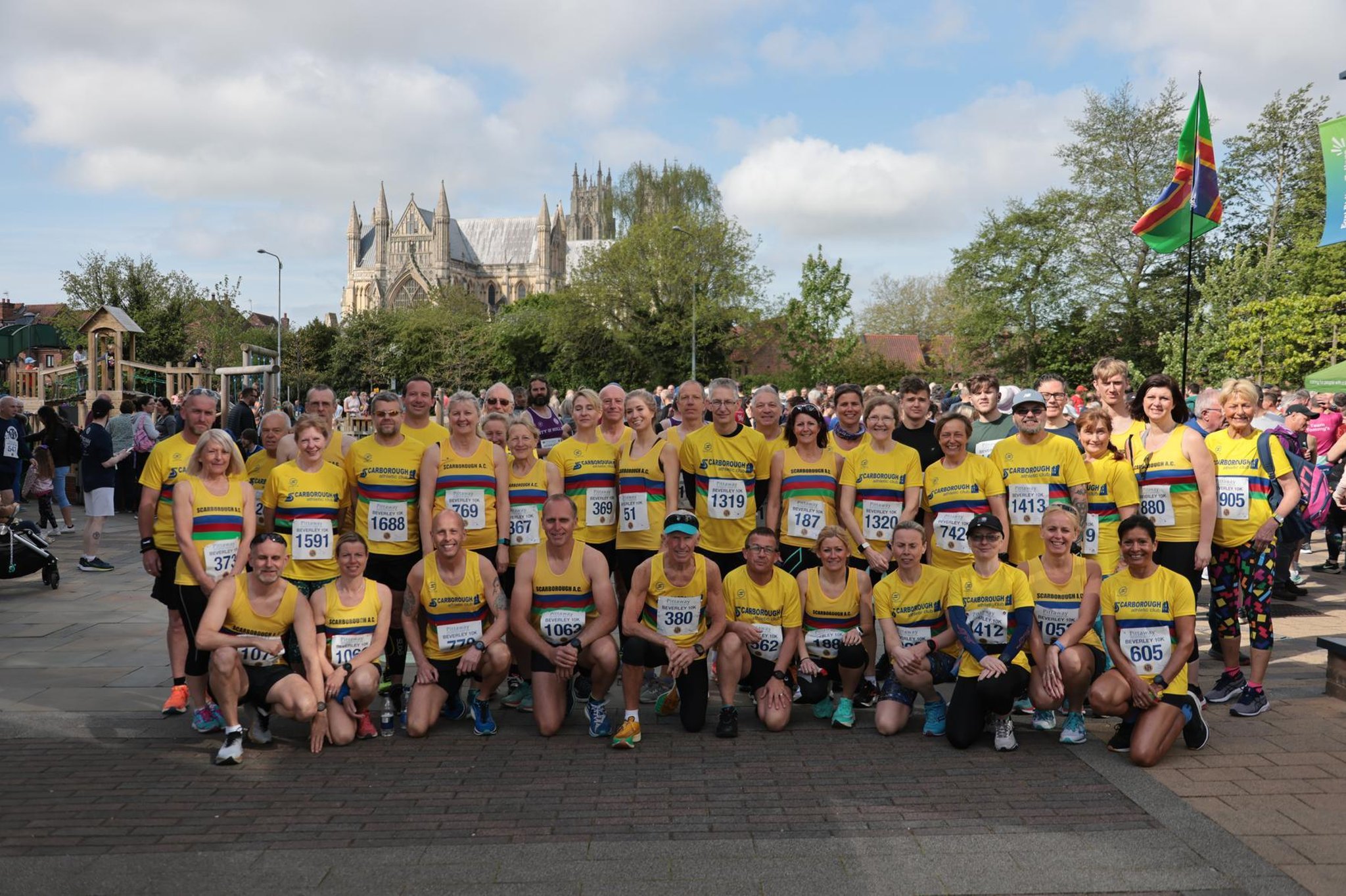 Jackson Smith leads the way at the Scarborough Athletic Club in the Beverley 10K race
Scarborough Athletic Club members at the Beverley 10k
Jackson Smith was the club's first home after finishing 24th overall in 1,595 in 35.47 and the first under-18.
The men's team was rounded out by Glyn Hewitt third in the over-50s in 38.48 and Andrew Hopper fourth in the over-50s in 39.49. Neil Scruton followed at 46.06 and was the first of 16 men over 70.
Fay Hethershaw led the club women in 45.50 and was second in the over-50s.
Rounding out the women's team was Claire O'Neil with a PB of 46.46 and Cara Shardlow at 48.21.
Jackson Smith led the way for Scarborough AC at the Beverley 10k, finishing 24th overall
R. Broadley 52.13 & 3rd O70
A. Kitto 55.37 & 3rd Over 65
Two club members competed in Bluebell Trail Races at Temple Newsam grounds.
Jennie Kettlewell ran a slightly longer marathon and finished 11th overall and fourth woman in 5 hours 33 minutes.
Claire Hopkinson completed a tough 6.7 race in 1 hour 31 minutes.
The Lancashire-based club's second member, Kevin Hutchings, competed in the 10-mile event at Stainland in Calderdale, West Yorkshire.
He completed the 10.3 mile course which had 1,500 feet of climbing in 2 hours 30 minutes.
Eighteen club members participated in the North Yorkshire Water Park parkrun.
For a second week in a row, a junior from the club finished first in the overall club standings.
This time, 14-year-old Harry Coles was third overall on 134 and first 11-14. His twin brother Alfie Coles finished fifth overall and second 11-14.
Nicola Doody led the club's women after finishing eighth in the overall women's ranking and third in the over-55s.
T. Carrington 15th overall
Five club members participated in Sewerby Parkrun.
Pauline Elliott was the club's first home in 26th out of 94 women overall and fifth in the over-40s.
The club's three Women Over 70s were back in action and had another 1,2,3 finish, Lesley Bayes leading Patricia Keenan and Mary Slater. Alan Keenan was the first Over-75.
Robert Preston finished second overall in 92.
Pete Northedge was the first Over-75 for the first time after a recent birthday. Mitchell England finished third 11-14.
Harry Whitehouse was the only member of the club at Whitby Parkrun and finished 68th overall on 96 and first Over-70.
April Casey ran the Mole Valley Parkrun in Dorking, Surrey.
She finished 21st overall woman out of 66 in 31.39.