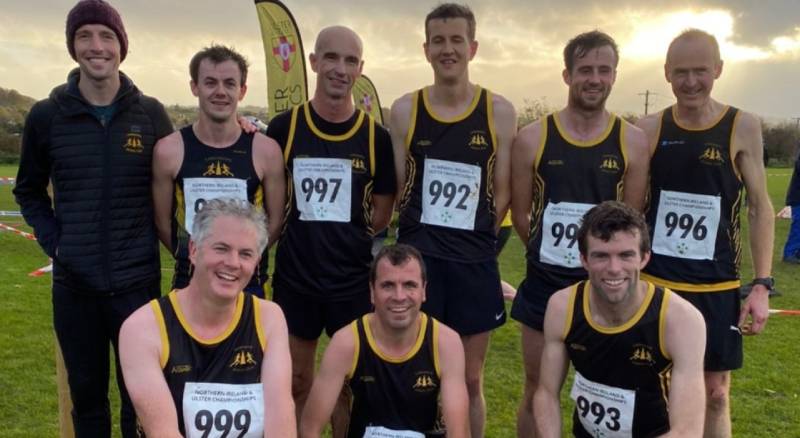 Letterkenny Athletic Club Weekly Notes – Donegal Daily
The cross country season continued on Saturday and once again there were some superb performances from the Letterkenny AC riders.
The very muddy conditions faced by the riders at Ballybofey for Saturday's Ulster Novice XC Championship did not deter the club's athletes.
The men's team put in a very honorable performance to win silver medals. Rosses AC was the winning team, with Milford AC 3rd. The first LAC rider at home was Mark Grennan, who was at the end of the quality field; he finished 6th in 22.36. Philip McHugh and John McCallion ran well and finished close to each other, Philip in 23.41 and John just 5 seconds behind.
Kevin McGee had a great run and was part of the scoring team with a time of 24.14. There were also excellent performances from Adam Friel, 24.56, Michael Harkin, 25.20, Dessie Shiels, 27.00 and Ciaran Liddy, 29.59. The first home runner was Sean Melarkey, City of Derry Spartans, in 21.37.
The LAC women's team also performed well. In form, Eimear Gormley once again showed she is capable of transferring her impressive form from road to cross country as she finished 4th in 17.54. Then Marie Boyle finished with a time of 18.43, then Orlaith Fogarty's time was 21.02 and Finn Begley was only 11 seconds behind. Niamh Heaney was the winner in 16.51.
Niamh Kelly had a great run on Sunday in one of Ireland's most historic races. She competed in the 130th race of the famous Clonliffe Harriers 2 Mile Race. Niamh, now a Dublin-based teacher, finished 6th in the women's race in a time of 11.25. It was high quality land. Tokyo Olympian Michelle Finn (Leevale AC) was the winner. Hiko Tonasa, from Dundrum South Dublin, won the overall standings in 8.54.
Several Letterkenny AC runners also made the short trip to Ballybofey to compete in the Finn Valley AC Remembrance Day 10K. Club captain Eoghain McGinley, a surprisingly consistent performer, had another great run. He crossed the line in a very quick time of 32.22, which earned him 2nd place. The winner of the race was Gary Slevin with a time of 31.59.
The next runner from LAC was Barry Mackey, who recently ran 2 races in the heat of Dubai. Barry's 40.22 time put him in the top 20. Stephen Shiels put on a good performance and clocked 42.05. Gary Kearns performed well and crossed the line in 43.33. Pat Brady had a good race and clocked a time of 43.42.
Marie Boyle was probably Donegal's busiest athlete of the weekend. After her cross country outing on Saturday, Marie was back in action and clocked an excellent 43.57.
Naoise Enright clocked 44.22 and Gary Price's improvement continued and his time of 45.08 was another in the long line of PB he has achieved in recent months. Paul Sweeney finished in 46.45, Margaret Shiels in 46.48, Bryan Margey in 48.01, Helena Crossan in 52.20 and Maura O'Grady in 55.03.
Letterkenny AC would like to congratulate our neighbors, St Eunan's GAA Club, with whom we have a good working relationship. They won the County Donegal Gaelic Senior Football Club Championship this weekend.
Letterkenny Athletic Club Weekly Notes was last modified: November 8, 2021 through Editor-in-chief