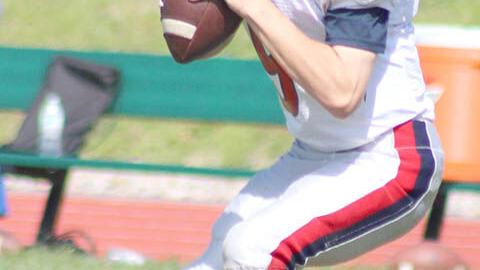 Lincoln takes track and field team to grill | Sports
[ad_1]
LINCOLN – When it comes to college experience, there aren't many teams in the state that can match the amount that players on this season's Lincoln High football team have amassed over the past few years. years.
Unfortunately for the Lions, almost all of that college experience is in other sports, including baseball, wrestling, volleyball, basketball, and lacrosse.
As for the Lions' experience on the grill? Only four starters are back from last year's squad, and while there are quite a few newcomers to the program who are known in other sports, that suits head coach Sean Cavanaugh perfectly. .
"Our roster is heavy with multisport athletes," he said. "It's something (high school football coaches) are trying to promote nationally. Here in Lincoln, it's fantastic to bring these kids out. They're as green as you can get, from a football standpoint, but they're competitive kids with athletic skills so we're excited about that.
"And (the preseason) has been great," Cavanaugh continued. "There is automatically a little chemistry because the kids know each other about other sports, and there was a real competitive nature to play. It was really cool.
Cavanaugh spoke about his squad last Friday afternoon, on the eve of Lincoln's four-team scrimmage at Ponaganset High against host Chieftains, North Providence and Ellis Tech of Danielson, Connecticut, and rocked players in every position. off his list as if he was reading a "who's who" of the school's top athletes.
The most prominent name in the group is senior Randall Hien, pictured, a baseball and basketball star who is returning for his fourth season as a Lions quarterback, and the three other returning starters. are senior center Noah Waite, who Cavanaugh called "leading the weight room load in the offseason" and junior guards Dylan Balon and Lyric Logan.
The Lions full-back also has some experience in junior full-backs John Jaramillo, Kyle Wilson, Tyler Dusty and Marcell Rocha, and senior full-backs are Andrew King and Allen Setaro.
Up front, there has been some competition for tackle spots between juniors Joseph Dufault and Will Postle and second student Will Bowler, and the most versatile lineman in the group is senior Aidan Murtha, who may play any place on the line.
Lions receivers are senior Jarod Gonsalves and juniors Aidan Gould, Mark Nkwantabisa, Vaun Larisa and Spiros Revis. Octavio Brito.
Most of the offensive players are also present on the other side of the ball. The defensive line is made up of Balon, Waite and Logan, the linebacker corps has Murtha and Setaro on the outside and King and Toro in the middle, and the secondary contains Gould, Jaramillo, Wilson and second Isaac Alves, who is also the backup quarterback.
"We're obviously not a football factory," Cavanaugh said, "but having athletes come out gives you something to work with. They don't have football experience, but they show up. early and stay late and they really work.
After making four consecutive trips to the Division III semifinals, the Lions realized they would have to do a lot of work last season when they were promoted to D-II. They lost three of their first four games in their new league, but ended the season strong with wins in four of their last five to finish with an overall record of 5-5.
"Division II was a challenge for us," admitted Cavanaugh, whose team entered the final week of their championship schedule with a chance for a playoff berth but suffered a 28-21 loss. at home against Rogers. "It was a bit of a reality check, and the boys realized they had to work out in the weight room during the offseason and come (in the following season) dedicated and committed if they wanted to compete in Division II. .
"And we've seen it, which is great. Coach (Steven) Rodrigues, who is the school's resource officer, volunteered his time during the offseason to give us some of his strength training and conditioning expertise. It was new for us, to have a really big performance in the offseason, and we had 20-22 (kids every day) in the weight room.
The Lions are surely hoping their offseason work has paid off, as the schedule officials have not been kind to them anymore. As they did last season, the Lions will face their Division I neighbor Cumberland in their Injury Fund game on Friday at Max Read Field, and they will return to Max Read Field on Friday, September 13 to face another team. DI, Shea.
As for the first Lions championship game? They will host reigning Super Bowl D-II champion Woonsocket on Friday, September 20.
"We're starting with such a tough schedule," Cavanaugh said. "But right now we're really trying to get all the kids involved. We have all these athletes, and we have to find out what they're doing well and find a place for them. And if everyone embraces their role and the team concept kicks in, I think we'll have a chance to be competitive – tough as Division II is. Every night is truly a battle.
[ad_2]