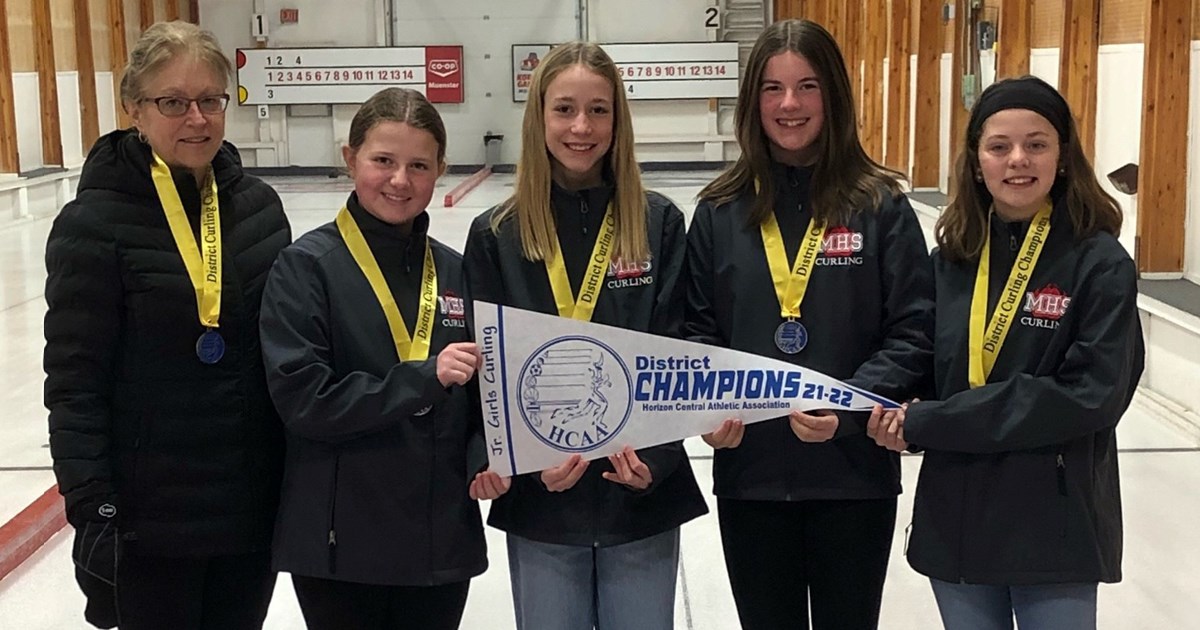 Muenster Junior Girls win Horizon Central Athletic Association Curling District Championships
The Muenster school senior team finished second in the district championship. St. Dominic's School of Humboldt teams were HCAA District Championship runners-up for Junior Boys and Junior Girls
MUENSTER, HUMBOLDT — Muenster School's junior women's curling team won the Horizon Central Athletic Association district championship last week.
The team defeated Lanigan and St. Dominic's Humboldt School rinks to win the district championship Feb. 15 in Ituna. The Muenster school team included captain – Payton Muggli, third – Sully Yeager, second – Sarah Loehr and first – Mikayla Sylvestre.
Coach Janine Lacoursière said the Muenster school rink is very dedicated to training and all league games. She said they were "eager to learn and soaked up all the advice their coaches gave them". Lacoursière also noted that the student-athletes had "positive attitudes and like to have fun. … Everyone seems to really enjoy the sport.
Münster Senior Boys
On the boys' side, the Muenster School senior team finished second in the district championship and clinched their ticket to the regionals. This last event will take place in Prince Albert, on March 4 and 5.
Riley Sylvester skips the senior boys' rink. Ethan Hinz is the third. The rink outposts are second Jacob Newberry and first Adam Korte.
"I think they made it because they've been playing together since grade 7," coach Maegan Clark said. "They get along well and have a great attitude on the ice during games and in practice. They really enjoy playing together and are looking forward to regionals.
At the district championship in Wadena on February 11 and 12, the Muenster school beat Bruno and Bellevue to reach the final. After going through the B-side, Bellevue defeated Muenster School for the title.
Saint Dominic School
The St. Dominic's School of Humboldt teams were the HCAA District Championship runners-up in Junior Boys and Junior Girls.
St. Dominic's junior men's team opened play in Ituna on Feb. 15 by defeating Quill Lake. A loss to Wynyard sent the rink to the B side. He beat Quill Lake again to win the B. In the final, St. Dominic fell to Wynyard. St. Dominic's rink consisted of skip Wyatt Fleischhacker, third Liam Zimmerman, second Carter Possberg and lead Landon Wegleitner.
In the Women's District Championship, also on February 15 in Ituna, St. Dominic defeated Lanigan and lost to Muenster School. The team included lead Calleigh Gehlen, second Mary Corcoran, third Abby Zimmerman and skip Leina Niekamp.
Reports received from St. Dominic indicated that both teams played hard and were "great ambassadors for our community". Student-athletes from St. Dominic and those from other schools participated in practices every Monday at the Humboldt Curling Club. The information of the
The school praised Brian Wempe for organizing the practices and expressed gratitude to the community coaches "for taking the time to help teach curling to our students."
Champions
On the senior side, the HCAA district champions were: boys – Bellevue, girls – Wadena, mixed – Watrous and doubles – Strasbourg. On the junior side, it was the boys – Wynyard, the girls – Muenster School, the mixed ones – Watrous, and the doubles – Strasbourg.